Buy Windows 10 on a stick, add a wireless mouse and keyboard and off you go.
The latest entrant to the computer stick game is the Archos PC Stick, a £79 Windows 10 PC that slots in the hdmi slot
http://hexus.net/tech/news/systems/8...s-uk-price-79/
http://www.slashgear.com/archos-pc-s...dget-26390666/
Archos' Windows 10 device is the cheapest PC on a stick yet | PCWorld
The Archos PC Stick isn't entirely unique. It is powered by a quad-core Intel processor, which in this case usually means an Atom Z3735F. It has 2 GB of RAM, which is probably adequate for basic computing needs. The 32 GB of storage is a bit worrying since we're talking about Windows here, though there is a microSD card slot that can be used for extra storage. Wi-Fi and Bluetooth make up the wireless connectivity options and there's also a full-sized USB port. The latter can be used to connect wired peripherals, like a keyboard and a mouse.
Archos launches HDMI PC Stick, sets UK price at £79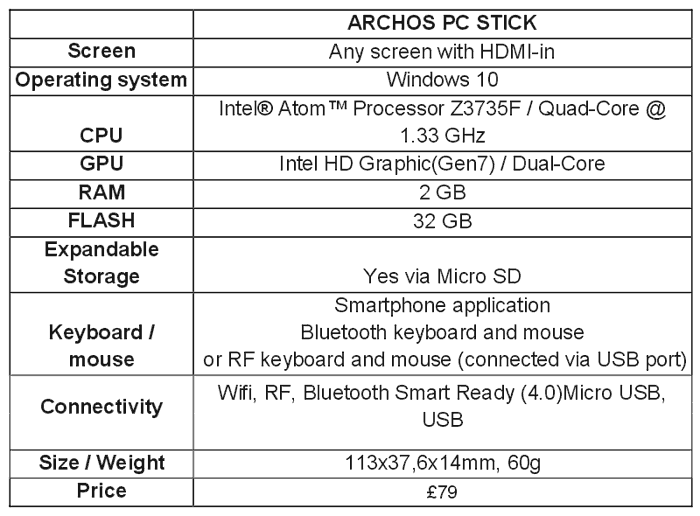 At the price of £79, or $99, this PC offers a tremendous value proposition for a general purpose PC. At this small size it is exceptionally well suited as a space saving alternative to an office PC, provided that the user does not require much computing power.
With Intel's Z3735F SoC this PC is no better than a low end Windows based tablet in terms of specs, though at this size and price little more could be expected from it. The Archos PC Stick is an interesting PC, yes it has very mediocre specs but it is more than enough for the many people who only require a basic PC for online browsing or shopping.
it will be interesting how PC of this size will evolve moving into the future as smaller and more efficient CPUs are produced.